There is no single food item that is as globally acceptable and consumed by people around the world as rice is. This is because of the high nutritional content of rice, rich taste, mesmerizing aroma and the wide geographical distribution. Prince Trading Impex aims to bring this treasure trove of health benefits to people through its range of rice varieties that are loaded with nutrients and have an exceptional aroma as well as supreme taste. Based in Kolkata city in the Indian state of West Bengal, with an industrial experience of more than 15 years, ISO 9001 : 2008 certified company deals in products such as Basmati Steam Rice Premium Quality, Premium Basmati White Sela Rice,
Sona Masoori Rice
, Premium Golden Sela Basmati Rice, Wheat, Maize, to name a few.
Our Infrastructural Strength
Our modern infrastructure is our real strength, both in terms of men and machines. Located in Kolkata, West Bengal, India, and ISO 9001: 2008 certified, our infrastructure is integrated with rice processing plants for efficiently accomplishing milling operations.
Our Vision
Our vision of our company is to become a top quality rice and other agricultural commodities supplier in the Industry and the Global market. We want to create a brand name for our product quality. We are promoting Indian Agri & Rice product with an aim to enhance Agri/Rice exports.

Our Mission
We support the IMPACT management practice :-
I for Innovative
M for Motivated
P for professional
A for Accountable
C for Competitive
T for Trustworthy
Quality
The quality and management system of our ISO 9001 : 2008 certified company is excellent. We ensure the quality of our 100 % Broken Parboil Rice, IR 36 / 64 Raw Rice Silky , Sona Masoori Rice, Premium Basmati White Sela Rice and other commodities. We are specialized in processing and selling of rice, known to provide many benefits to the consumers, like minimal cholesterol content benefits cardiovascular health; rich complex carbohydrates and dietary fiber content improves improving digestion; zero fat and high nutritional constitution buildup muscle and maintain a healthy skin, etc.
Fact Sheet of Prince Trading Impex
| | |
| --- | --- |
| Business Type | Manufacturer, Supplier & Exporter |
| Year of Establishment | 2010 |
| No. of Employees | 10 |
| No. of Production Units | 1 |
| Production Type | Automatic |
| Monthly Production Capacity | As per order based |
| Warehousing Facility | Yes |
| Bankers | HDFC Bank, Kotak Mahindra Bank |
| Annual Turnover | Rs 6 Crores |
| Niche Market | India |
| Company Branches | 1 |
| Some Major Clients [Clientele] | Alshifa,Mosons Extrations. |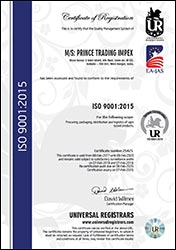 Contact Us
Nicco House, 2, Hare Street, 6th Floor, Room No. 6F(II), Kolkata, West Bengal, 700001, India
Phone :+918068096865